CCDF-USA seeks to ensure that elections are carried out with duly enacted law and shed light on ambiguity, so our county citizens maintain trust and confidence in our election outcomes.  For this reason, CCDF-USA submitted an amicus curiae ("friend of the court") brief to the Texas Supreme Court on an emergency reconsideration request for a writ of mandamus.  The brief was submitted by CCDF-USA Texas General Counsel and Director of Legal Operations, Jonathan Hullihan. Although CCDF-USA was not a party to the litigation, the amicus brief was submitted to the court to advise on the authority of the Texas legislature under the U.S. and Texas Constitution, the scope of recently enacted reforms to Texas election law, and the authority and legal effect of advisory opinions from the Texas Secretary of State. The key issue was the authority and responsibility of the Texas Secretary of State to issue, update, and replace election advisories consistent with newly enacted election integrity laws.  Although the writ of mandamus and emergency request for reconsideration was denied, it is important to remain present and vigilant on election integrity matters, particularly on separation of powers and constitutional authority.   As the November 2022 election fast approaches, CCDF-USA legal will continue to monitor the Election Advisory 2019-23 to ensure that the directives for the mandatory consecutive numbering of ballots are carried out consistent with the plain meaning and intent of the Texas legislature. CCDF-USA has a significant interest in this important matter for all citizens in the State of Texas, regardless of party affiliation. 
CCDF-USA legal continues to support county affiliates with interpretation of law and policy, public information requests, and researching breaches of liberty.  CCDF-USA legal stands ready to resolve breaches and uphold the rule of law.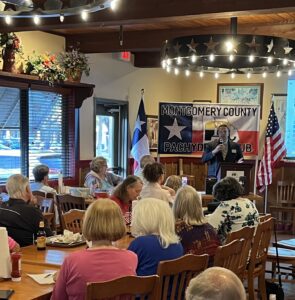 CCDF-USA Texas General Counsel and Director of Legal Operations, Jonathan Hullihan has recently spoken to several groups on the U.S. and Texas constitutional authority regarding protecting United States sovereignty and the rule of law as the Southern Border crisis continues at historic proportions. Jonathan has a background in national security law.  He also provides historical and legal context on the perpetuation of the border crisis by non-state actors, the involvement of foreign adversaries, and the unconventional warfare tactics that have been unleashed on our citizens.   Our county citizens are bearing the brunt of the border crisis with counter-lawfare, mass immigration tactics, and transnational criminal organizations importing synthetic opioids such as fentanyl into communities across the nation. Jonathan and the rest of the CCDF-USA team have been pushing their local county and state officials to recognize the damage being caused and invoke their full constitutional authority to demand accountability and protection of American citizens' natural rights of life and liberty.